The Principles of Weight Training
The principles described here will have the highest influence on your weight training. Regardless of any advice you might get from people experienced in training, these principles are unalterable. Much of that advice may be good. But if you ask ten experienced people in weight lifting about a specific thing, it's very likely that you'll get different even opposing answers.
Whether you train bodybuilding, street workout, calisthenics, body-weight training…, and irregardless of sex, if you have the goal of building a stronger, aesthetic body, all of Muskultura pertains to you.
The body is an adaptive mechanism.
Depending on the conditions it is facing, the body always tries to restructure itself to be more able to survive under those circumstances.
If the body is subjected to efforts or stresses, it will react in a way that it will tend to restructure itself so as to become more able to sustain such stresses in the future.
The body adapts very skillfully and specifically depending on the type of effort it is subjected to.
For example, someone who is used to office work suddenly starts chopping wood frequently. He will get calluses on his hands because of the skin friction. The effort and the inflammation he feels in his body are results of the fact that he is not used to this kind of effort.
His body will repair the damage. After few weeks being subjected to this kind of effort, the body will start doing more than just repair. It will try to take precautionary measures to protect itself from future similar efforts or stresses. In this case, the precautionary measure is the calluses. The skin where it was mostly subjected to the stress will become hardened and more resistant to the friction. That way the body will restructure itself, so future stresses of same or similar nature will cause less damage.
The body can be restructured by handling the factors of physical stress.
Weight training (or, resistance training) in order to reconstruct the body means:
Methodically applied physical stress to produce desired changes.
Hormones further execute the process of remodeling with which the desired changes are effected into your musculature.
The type and the amount of stress your body is subjected to, determines the type and amount of change in your muscular structure and form.
The body will always strive to adjust itself to the activity or inactivity you subject it to. If you run long distances regularly, the body will strive to adjust itself to the circumstances – the stress and the jogging – by reducing weight. Weight is extra burden and makes the jogging more difficult. A note: this is an example which serves to explain the nature and mechanics of the body, not an example that advises jogging in order to lose fat. Frequent and long-lasting jogging has negative hormonal effects. Muscles are part of the weight. The body will strive to reduce them.
That's the reason why marathon runners are skinny.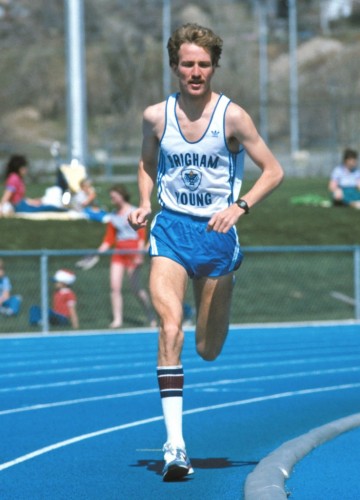 Adaptations from weight training are not automatically beneficial to your health and form. You need to subject your body to the proper amount and type of stress in order to produce the desired transformations.
What do you want to achieve?
The weight-training program and nutrition guidelines must be formed depending on your current body type and on what you want to achieve through weight training.
Do you want lose body fat? Increase strength? Are you skinny and want to increase your muscle mass? Are you beginner from scratch? Do you train for a few months, years?
All these questions will help determine your next steps with resistance training. What workout program to choose? Should you train with heavy or light weights? How long and how often? Do many or fewer repetitions? Should you jog? Long distance or short? Moderate speed, fast or sprints? What to eat? Carbohydrates, proteins, fats? What ratio?
Three body types
Your next steps in weight training and nutrition can be determined depending on your current body form.
Generally, there are three body types:

These three categories are general and it doesn't mean you are strictly in one of them. Your body can be a combination of any of these three body types or be somewhere in between.
Skinny body type
Characteristics: low muscle mass, low body fat, narrow shoulders and narrow chest.
Exercise and nutrition recommendations:
 
.
Your first and basic goal should be increasing strength and body weight in muscle mass. Because you lack strength, it is probable that your muscle-building progress may seem slower in the beginning. That's why it is needed to increase the daily intake of protein and fats. Your workouts should focus on strength (compound) exercises, not isolation exercises. Compound exercises are those influencing more muscles at once – Squats, Bench Press, Deadlift…
In this phase, the best thing you could do with weight training, is the StrongLifts 5×5 program.
Supplementation with protein shakes may help a lot.
You should not spend excessive amounts of energy on other physical activities, jogging, swimming, etc. We don't have nothing against other physical activities and sports, quite the contrary. But if you spend much energy outside the gym, your gym workouts will be less intensive. And your whole progress will be significantly slowed down.
Muscular body type
Characteristics: wider shoulders and chest, good muscle structure and greater strength.
Exercise and nutrition recommendations:
 
.
Your basic goal should be building more muscle mass, ripped muscles and increasing your strength. Building muscle mass should be relatively easier for your than people with the other body types.
Depending on your weight training program, train with weights you can do maximum 5-8 reps, always with previous warm-up. Include several compound exercises in each workout.
If you are a beginner, start with StrongLifts 5×5. Then continue with programs that combine compound exercises with isolation exercises. (StrongLifts 5×5 isn't beginner's only)
Increase your protein intake and don't consume excessive amounts of carbohydrates, sugars. Supplementation with protein shakes and other supplements will help greatly.
Rounded body type
Characteristics: soft muscle mass, rounded face, wide hips and large amount of stored fat.
Exercise and nutrition recommendations:
 
.
Your first and basic goal should be lowering your body fat and increasing strength.
Besides the popular thinking that you should do 50 exercises with 1000 reps each in every workout, and that you should jog 20 hours a day, it's not true. That's the hard and very slow way.
Focus on creating testosterone, glucagon and HGH response, not on burning calories within the workout. Let the hormones do the burning of calories, which occurs after the workouts.
During this phase, the best thing you could do with weight training, is the StrongLifts 5×5 program. It is very gradual but powerful approach. Do it at least 3 months. Combined with proper nutrition, you will achieve fastest results. Then continue weight training as described in the next point.
Depending on your weight training program, train with weights you can do maximum 5-8 reps, always with previous warm-up. Have less than a minute break between sets. Always include compound exercises in your workouts.
Your workouts should be fast and intensive, not longer than 60 minutes. All exercises you will do must be done in 60 minutes maximum, ideally 45. Explosive workouts induce much, much higher testosterone and growth hormone response than "hard workouts" lasting for 2 hours. Long workouts make the next workouts harder. And needlessly lower your motivation.
You need to decrease your daily carbohydrate intake to less 40 grams. Calculate your daily intake of proteins, carbs and fats. Supplementation with protein shakes (not gainers) and other supplements can greatly help to lose fat. Reduce carbohydrates to switch your body to fat-burning mode..
You can incorporate 30-40 minutes of biking or jogging, but that's not 100% necessary. Good weight training program and nutrition will cause change in your hormonal reactions. It will switch your body from storing to burning fat. The calories burned in one weight-training workout are meaningless in comparison with the calories burned after. Fats are mostly burned after the workout as a result of the hormonal response that will occur later. Proper hormonal response will activate muscle-building processes and those are the best fat burners.
To increase proper hormonal response, sprints are the better way than jogging. Do it two times a week in non-workout days. You need only 5-10 minutes to do the sprints.
A beginner
A beginner is someone who trains actively and regularly for several months.
After this a person would have experienced progress and an increase of strength. He should know how to do the exercises properly. But mostly, after the beginning period it's someone who's body has already adapted to the physical stress imposed from exercise.
Of course there is a difference between someone training 1 year and someone training 5 years or 10 years. Someone training 1 year could be considered beginner compared to someone training 5 or 10 years, but here by beginner we mean someone who is still getting his neuromuscular system used to exercise.
Adaptation
In the first six months of weight training, body's adaptations mainly occur in the neuromuscular system. This means that no matter the size of any muscle, it is useless if the brain can't successfully transfer the signals to it. When you start with a bodybuilding program, that connection between the brain and the muscles is not yet properly set up regarding the lifting of weights. Trembling of the muscle while weightlifting, when they shake under the effort of lifting the weights, shows that the brain tries to give an order to the muscles to do something of which they are not used to. They get confused. With each successive weight-training workout, the brain becomes more able to activate more motor units (nerves and muscle fibers). Your order gets executed by the brain through the nerves which transfer the signals.
This is how the coordination of the nervous system improves. This constitutes larger part of strength than what is usually supposed by people. Heightened activation of nerves and muscle fibers is the first improvement that occurs as a result of weight lifting. Most of the strength gains in the beginner's phase of weight lifting, result from this heightened activation, of this improved relationship between the brain and the muscles – not by increased muscle mass. For example, someone who could bench-press 30 kg in the beginning, after 3 months he can lift 70 kg, even without large increase of his muscle mass.
Muscle growth
These adaptations then continue further but in a slower pace. And then the muscular adaptations i.e the growth of muscle mass is what increasingly contributes to the increase of strength. This becomes more dominant than the motor adaptations of the nervous system.
So after this adaptive period for the nervous system, the increase of strength occurs mostly because of the increase of muscle mass. Then you enter into a phase of weight lifting wherein it is extremely important which exercises you do, what intensity, how many repetitions, etc.